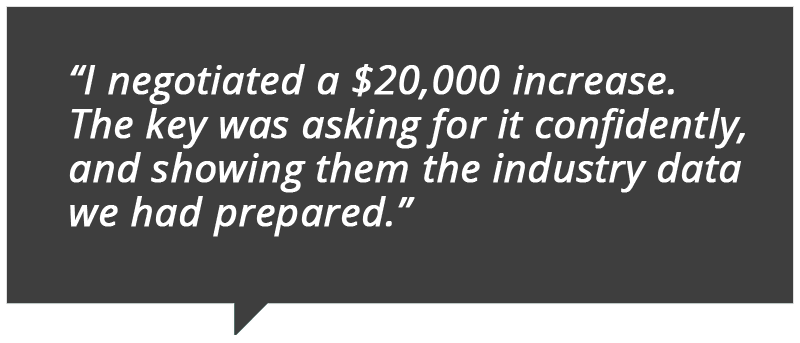 My top priority is delighted clients
For a long time in my career, I was focused on making a living.
Now, I'm obsessed with making a difference.
It's incredibly fulfilling to help others around the world earn what they're worth and achieve career success. I'm thrilled when students share their stories with me.
View Salary Tutor testimonials, reviews, and case studies:
Testimonials for 1 on 1 Consulting
"I negotiated a $20,000 increase. The key was asking for it confidently, and showing them the industry data we had prepared."
"They increased the salary by $10,000, will allow me to work remotely for the next 15 months, and my first round of stock vests in a year."
"Incredible passion for helping people in their careers. Jim is an attentive and patient career coach that can guide you through the murky waters of salary negotiation."

Testimonials for Online Courses
"Short, snappy, and literally packed with information and examples. The minute I watched the first video, I thought, 'I need to watch this course.'"
"I was initially hired at $50k and today was my 1 year review. They raised my salary to $78k and will give me another review in 6 months instead of 12!"
"After watching your online course for salary negotiation, I earned a significant raise and a management role!"

Testimonials for Speaking
"Jim was truly a smash success. His enthusiasm and passion shined in his presentation, and his advice clearly hit home with our audience."
"Exceedingly well-prepared & enthusiastic, Jim's passion is contagious. He is dynamic, approachable and knowledgeable – a hard to beat combo!"
"Highest rated speaker of the entire conference: 94% rating."

Testimonials for Salary Tutor Book
"I read your book, did my research, and presented my case to my employer with confidence — no anger, pleading, or begging. They offered me $25k more!"
"One week later I signed a contract for $85k, for an overall increase of $13,500. Thanks to your book I got a nearly 19% pay raise and title change."
"Practical and Powerful… It's almost like he's written the script, and it's just up to you to do your homework and say your lines."