Welcome Internet Business Mastery Listeners!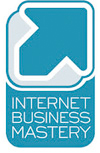 What an honor being on the Internet Business Mastery Podcast — Thanks Jeremy and Jay!
I've been a listener since the very beginning, and even though I've had some pretty great "corporate jobs," I was able to turn my passion for career development into a business and escaped the 9 to 5.
We talked about 3 main topics on the show:
1) Using online learning sites as a passive income stream
Related post that details the launch of my Salary Negotiation course on Udemy.
2) Helping people negotiate their salary
Visit the links above for more information: Articles, Courses, Working 1:1
3) My path from corporate world to entrepreneur
It's been an amazing ride from startups to major brands to entrepreneurship.
Thanks for listening to the show!